The Advantages of Renting an Office in a Business Center
Unlocking Success
In the world of business, finding the right office space is crucial for productivity, collaboration, and establishing a professional image. While traditional individual offices have been the norm for many years, there is an increasing trend towards renting office spaces in business centers. These modern workspaces offer numerous advantages that can greatly benefit businesses of all sizes. In this blog post, we will explore the advantages of renting an office in a business center over taking an individual office: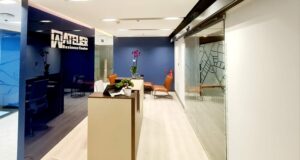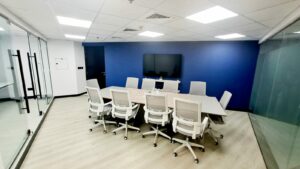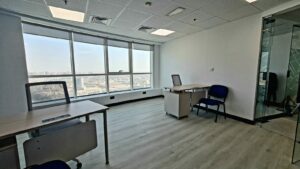 One of the primary advantages of renting an office in a business center is the cost-effectiveness it offers. Traditional office spaces often come with high upfront costs, including security deposits, lease agreements, and the need to purchase office furniture and equipment. On the other hand, business centers typically provide fully furnished and equipped offices, allowing businesses to save significantly on upfront expenses. Additionally, business centers often offer flexible leasing terms, allowing you to scale up or downsize your space as needed, minimizing unnecessary expenses.
Renting an office in a business center allows businesses, especially startups and small companies, to establish a professional image without investing in a long-term lease or a dedicated office building. Business centers are designed with professionalism in mind, featuring modern decor, impressive reception areas, and professional staff who handle administrative tasks. By having access to these shared amenities, businesses can create a positive impression on clients, partners, and potential investors.
Networking Opportunities
One major advantage of being part of a business center is the opportunity for networking. Sharing a workspace with other companies and professionals from various industries provides an environment that fosters collaboration, partnerships, and knowledge sharing. Business centers often organize networking events, workshops, and social activities, giving tenants the chance to connect with like-minded individuals and potentially form valuable business relationships. Such networking opportunities can lead to new clients, partnerships, and even referrals.
Flexibility and Scalability
Renting an office in a business center offers unparalleled flexibility and scalability. Business needs can change rapidly, and with a traditional individual office, businesses may find themselves locked into a long-term lease that doesn't align with their evolving requirements. In contrast, business centers offer flexible lease terms, allowing businesses to adjust their office size and amenities as their needs change. Whether you need to downsize or expand, a business center can accommodate your needs quickly and efficiently.
Access to Premium Amenities
Business centers are designed to provide a wide range of amenities that enhance productivity and convenience. These amenities often include high-speed internet, meeting and conference rooms, reception services, IT support, cleaning services, and kitchen facilities. By renting an office in a business center, businesses gain access to these premium amenities without the hassle of managing them independently. This allows businesses to focus on their core operations while enjoying the benefits of a fully equipped workspace.
Renting an office in a business center offers numerous advantages over taking an individual office. From cost-effectiveness and professional image to networking opportunities and flexibility, businesses can thrive in a business center environment. By leveraging the shared resources, services, and networking potential, companies can concentrate on their growth and success while benefiting from a professional and collaborative work atmosphere. Consider renting an office in a business center as a smart and strategic move for your business's present and future needs.